Maya narrative arts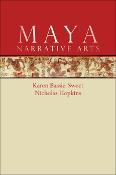 Abstract
A comprehensive and innovative analysis of the principles of Classic Maya narrative arts and applying those principles to major Palenque monuments. Demonstrating recent methodological shifts in the examination of art and inscriptions away from technical issues and toward the poetics and narratives of texts including relationships between images.--Provided by publisher.
Author(s)
Bassie-Sweet, Karen; Hopkins, Nicholas A.
Rights Access
Access is limited to the Adams State University, Colorado State University, Colorado State University Pueblo, Community College of Denver, Fort Lewis College, Metropolitan State University Denver, Regis University, University of Alaska Fairbanks, University of Colorado Boulder, University of Colorado Colorado Springs, University of Colorado Denver, University of Denver, University of Northern Colorado, University of Wyoming, Utah State University and Western State Colorado University communities only.
Date Issued
2018
Format
born digital; books
Collections