Pueblos within pueblos: tlaxilacalli communities in Acolhuacan, Mexico, ca. 1272-1692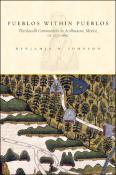 Abstract
Systematically analyzing tlaxilacalli history over four centuries, beginning with their rise at the dawn of the Aztec empire through their transformation into "pueblos" of mid-colonial New Spain. Before the Aztecs rise, commoners in pre-Hispanic central Mexico set the groundwork for a new style of imperial expansion---provided by publisher.
Author(s)
Johnson, Benjamin D.
Rights Access
Access is limited to the Adams State University, Colorado State University, Colorado State University Pueblo, Community College of Denver, Fort Lewis College, Metropolitan State University Denver, Regis University, University of Colorado Colorado Springs, University of Colorado Boulder, University of Colorado Denver, University of Northern Colorado, University of Wyoming, Utah State University and Western State Colorado University communities only.
Date
2017
Format
born digital; books
Collections