Characterization of urban water use and water demand forecasting using the Integrated Urban Water Model in Sao Paulo, Brazil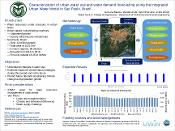 Abstract
Urban sprawl over the past decades have put water resources under pressure in urban areas due to constantly increasing demand and impaired quality. Particularly in developing countries, investments in this sector are still scarce. The application of the Integrated Urban Water Model - IUWM - for the characterization of current and future urban water demand in the municipality of Sao Paulo, Brazil, is pioneering in applying the model outside of the United States. The model also evaluates water conservation scenarios, cost saving options and can be of use for water utilities and urban planners.
Author(s)
Batista, Giovana; Arabi, Mazdak; Sharvelle, Sybil; Dozier, Andre
Date
2017
Format
born digital
Student works
posters
Collections
Related items
Showing items related by title, author, creator and subject.
Author(s):

Richardson, E. V. (Everett V.), 1924-


Date:

undated

Overview of work performed by Richardson for Water Supply and Storage Company and Northern Colorado Water Conservancy District from 1985 to 1998

Author(s):

Longenbaugh, R. A. (Robert A.)


Date:

1965

Memo and program from the 1965 Governor's Conference on Air and Water Pollution

Author(s):

Livingston, Russell K.


Date:

1987

Folder of maps, hydrographs, and U.S. Geological Survey data tables assembled for the groundwater/surface water network, a group of observation wells and streamflow gaging stations in the Arkansas River Basin