Navajo textiles: the Crane Collection at the Denver Museum of Nature and Science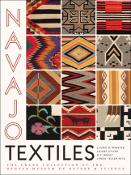 Abstract
An account of the historical context of Navajo weavings in the Crane Collection at the Denver Museum of Nature and Science--one of the largest collections in the world. Anthropologists and indigenous artists explore the Navajo rug trade in mid-nineteenth century and changes in Navajo textile market.--Provided by publisher.
Author(s)
Webster, Laurie D.; Stiver, Louise; Begay, D. Y.; Teller Pete, Lynda
Rights Access
Access is limited to the Adams State University, Colorado State University, Colorado State University Pueblo, Community College of Denver, Fort Lewis College, Metropolitan State University Denver, Regis University, University of Alaska Fairbanks, University of Colorado Boulder, University of Colorado Colorado Springs, University of Colorado Denver, University of Denver, University of Northern Colorado, University of Wyoming, Utah State University and Western State Colorado University communities only.
Date Issued
2017
Format
born digital; books
Collections