Refrains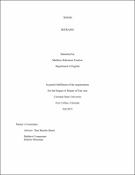 Abstract
A refrain is the line or lines repeated in music or verse. The poems that compose my thesis repeat themselves formally (the''re all sonnets) and thematically. The central figure of the poems is Lester Lovely. Lester is a composite persona of my anxieties and poetic influences. He is made of parts of me and the things I know about but he is not the author and should not be read as such.
Author(s)
Truslow, Matthew Robertson
Advisor(s)
Beachy-Quick, Dan
Rights Access
Access is limited to the Colorado State University community only.
Date Issued
2015
Format
born digital; masters theses