Memory traces: analyzing sacred space at five Mesoamerican sites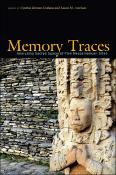 Abstract
Art historians and archaeologists from the US and Mexico come together to examine the nature of sacred space in Mesoamerica. Contributors explore the process of defining sacred space; how modern Western definitions differ from ancient Mesoamerica; how sacred spaces were conceived and used physically and symbolically; and what theoretical approaches are useful for art historians and archaeologists.--Provided by publisher.
Editor(s)
Kristan-Graham, Cynthia; Amrhein, Laura M.
Rights Access
Access is limited to the Adams State University, Colorado State University, Colorado State University Pueblo, Community College of Denver, Fort Lewis College, Metropolitan State University Denver, Regis University, University of Alaska Fairbanks, University of Colorado Boulder, University of Colorado Colorado Springs, University of Colorado Denver, University of Denver, University of Northern Colorado, University of Wyoming, Utah State University and Western Colorado University communities only.
Date Issued
2015
Format
born digital; books
Collections