Myth of Quetzalcoatl: religion, rulership, and history in the Nahua world, The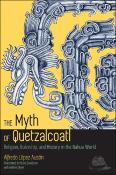 Abstract
The Myth of Quetzalcoatl is a translation of Alfredo López Austin's 1973 book Hombre-Dios: Religion y politica en el mundo nahuatl. Despite its pervasive and lasting influence on the study of Mesoamerican history, religion in general, and the Quetzalcoatl myth in particular, this is the first English translation of the work--provided by publisher.
Author(s)
Austin, Alfredo López; Davidson, Russ; Olivier, Guilhem
Rights Access
Access is limited to the Adams State University, Colorado State University, Colorado State University Pueblo, Community College of Denver, Fort Lewis College, Metropolitan State University Denver, Regis University, University of Colorado Colorado Springs, University of Colorado Boulder, University of Colorado Denver, University of Northern Colorado, University of Wyoming, Utah State University and Western State Colorado University communities only.
Date
2015
Format
born digital; books
Collections