Non-profit news effect: a thesis on the changing dynamics of newsroom culture at an online web outlet, The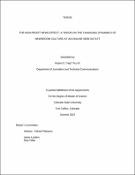 Abstract
As the media landscape continues to undergo changes, this study examined the decision making process, culture, business model and values of a non-profit media outlet and how those areas might differ from a traditional for-profit media outlet. Patterned after Herbert J. Gans' ethnography that was the basis for his 1979 book Deciding What's News, the observational study lasted the course of five weeks and featured extensive interviews with key decision makers and other employees from the non-profit outlet. The non-profit outlet was part of a larger non-profit media corporation, which allowed greater ...
(For more, see "View full record.")
Author(s)
Fry, Robert G., III
Advisor(s)
Plaisance, Patrick
Date Issued
2015
Format
born digital; masters theses
Related items
Showing items related by title, author, creator and subject.
Author(s):

Chambers, Mary Ann

Format:

born digital; masters theses

This qualitative study examines the use of news releases and social media by public information officers (PIO) who work on wildfire responses, and journalists who cover wildfires. It also checks in with firefighters who ...

Author(s):

Brooks, Royal Harvard; Corey, A. T. (Arthur Thomas), 1919-; Colorado State University. Department of Civil Engineering

Author(s):

Rader, Anna; Rader, Anna

Over the last few years, radio has undergone changes that are inevitable in the world of new media and digital technology. National Public Radio has extended their focus to build a compelling service on NPR.org, as well ...