Applied pedagogies: strategies for online writing instruction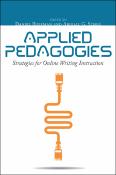 Abstract
Examines the pedagogical practices employed by successful writing instructors in digital classrooms at a variety of institutions, and provides research-grounded approaches to online writing instruction. Provides ways to employ the best instructional strategies possible for today's diverse and dynamic digital writing courses--provided by publisher.
Editor(s)
Ruefman, Daniel; Scheg, Abigail
Rights Access
Access is limited to the Adams State University, Colorado State University, Colorado State University Pueblo, Community College of Denver, Fort Lewis College, Metropolitan State University Denver, Regis University, University of Colorado Colorado Springs, University of Colorado Boulder, University of Colorado Denver, University of Northern Colorado, University of Wyoming, Utah State University and Western State Colorado University communities only.
Date
2016
Format
born digital
books
Collections